Machinery Skate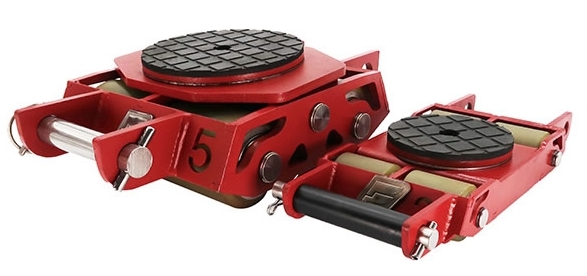 EAGLE Machinery Skates (Smart Dolly) are used for moving and carriage the heavy industrial machinery or equipment inside the factory such as CNC machine, lathe cutting machine, etc.
Features
EAGLE Machinery Skates (Machinery Rollers) enable smooth carriage, transportation and installation of heavy machinery equipment.
Using for plant relocation, machinery maintenance or moving the heavy machinery equipment inside the factory such as CNC machine, or lathe machine.
Equipped with urethane wheels, which increase durability and prevent any damage on the floor.
The center holes of their turntables are threaded so that it is ensured that their loads are fixed to them for safe moving.
These machinery skates have light weight compared with other conventional rollers, so they are more portable than before
For their directional changes, EAGLE recommends to jointly use 2-stage short cylinder jack as its height matches these rollers.
Same type of wheels both the standard and the low type are used, the cost of changing wheel will reduce to the least.
Tilt design type can make top-frame inclines up to 4 degree, it makes more stable during transportation
※Highly recommend using as set of 4 EAGLE machinery skates for safey moving
※Roller wheel need to be changed periodically (it can be changed easily)
Abrasion resistant rubber turntable

Tilt mechanism that promotes stable transportation (not included in low floor type)

Nickel-plated Type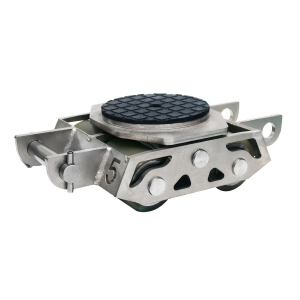 We can also manufacture a nickel-plated type of Machinery Skate (Smart Dolly) which are surface-treated with nickel-plate, widely used for clean-room applications, such as semiconductor equipment, assembly, electronics, chemical processing, pharmaceuticals, chip manufacturing and food processing. Since this is a nickel-plated type, paint removal type, which is safe to use under clean-room environment.
* Nickel-Plated Model is [Standard Model + C] : SD-50FC, SDL-20FC
   For example: Nickel – Plated Type of SD-50F is [SD-50FC]
* Capabilities and specifications are the same as the standard model.
Specification
Operating Manual
EAGLE wheels
EAGLE wheels are designed and tested carefully with strength calculation and actual machine test. In addition, in the comparative verification (high load test) by the wheel durability tester, after continuous use of 1,000 m or more, there was no cracking or peeling.
EAGLE Bracket
Brackets can be used as illustrated below. Use proper handle.
Pulling

Meandering prevention

Changing direction
Safety Precautions
If there are particles, the rollers will be damaged. Use them on smooth and clear surface.

Gaps on the road surfaces will affect machinery skates. Smoothen the surface as illustrated below.

Support the load applied to the machinery skates on the entire surface of the turntable.
If the turntable is hit by a convex part of a heavy object, use an object to ensure that the load is not concentrated on one point.There is a possibility that a heavy load or machinery skate may fall.
Put the load evenly on each machinery skate in a balanced manner.

Depending on the road surface conditions, Smart Dolly may get more load than expected. Select a model that have 2.0 times more than the net weight of the load.

Moving speed of machinery skate should be less than 10m/min. Use a handle specialized for machinery skate (optional parts) to change directions. When using a handle for changing directions, arrange machinery skate in order to control the handle easily.
Be sure to jack up to change directions. Do not force to change directions without jacking them up.

Keep machinery skate away from chemical agent. Also don't use them in too high or too low temperature, under water or on sand. It may corrode or damage rollers.
When there were no heavy load transportation rollers, when the machine was moved using rollers, it was necessary to re-roll the rollers one after another. However, since the machine can be fixed to the roller, it can be moved quickly by setting it once.