Highest Reliability
EAGLE places three priorities in its technological investment:
Robustness and durability
User oriented product design
High quality material and solid manufacturing technology
More than 40 years of experiences and lessons learned in responding Japanese customers' highest demand in heavy machinery movement field are reflected in EAGLE's products line.
(1) Robustness and Durability
EAGLE has been pursuing robustness and durability in its products in order to satisfy the customers' need for moving and placing high value added large scale precision machinery. Its R&D effort for robustness and durability bear fruits of its own technology such as high tension steel based integral structure and safety valve mechanism for robustness, and high durability internal structure of hydraulic cylinder.
Design by 3D CAD and structural analysis system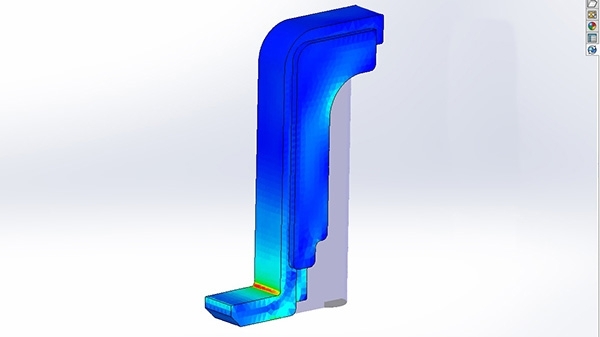 EAGLE's R&D organization has been achieving high performance goals through its design using its most advanced 3-D CAD and structural analytical system as well as its actual products test using its originally developed repetitive durability test machine.
Repeated durability test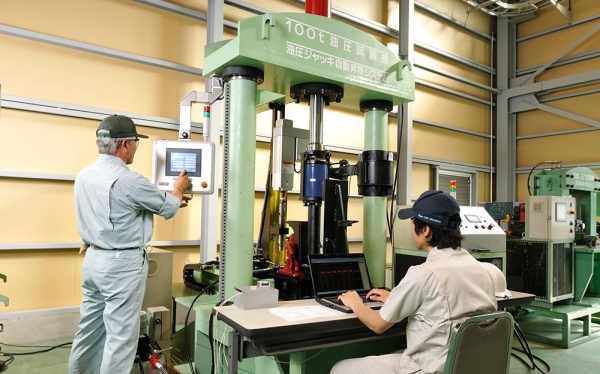 EAGLE has developed its own repeatability test equipment and has conducted rigorous durability tests from the design stage on parts that require durability, such as the main body of the toe jack, the toe part, and the wheels of a heavy load carrying roller. Therefore, EAGLE products are highly durable.
(2) User Oriented Product Design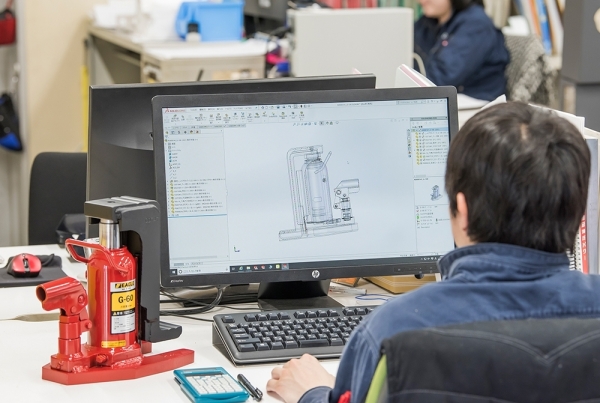 EAGLE's products development always goes with its users. Its sales staff visit customers' operational sites, directly listen to local users voices and reflect them in its products improvements. This user oriented product design posture is no exception for the design of accessories, which generally tend to be low priority area for product improvement. For example, EAGLE improved the lever handle of its jack products for higher stiffness to satisfy users' need for easy handling and work efficiency.
Tests using actual equipment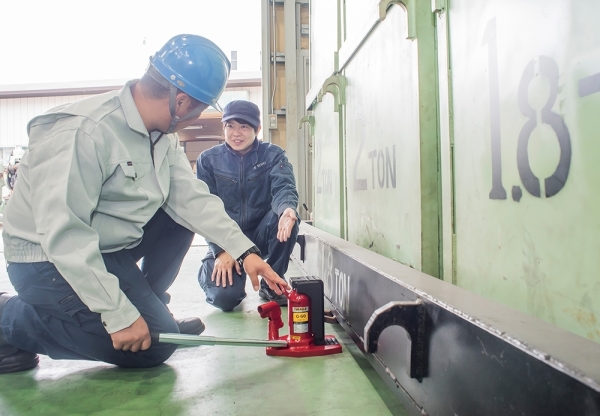 During product development, EAGLE is developing and improving its products while also conducting usage tests on actual equipment.
Performing the same work as on the site for moving heavy machinery while improving it on the actual machine leads to "usability" that cannot be expressed by the specifications alone.
Rotary lever socket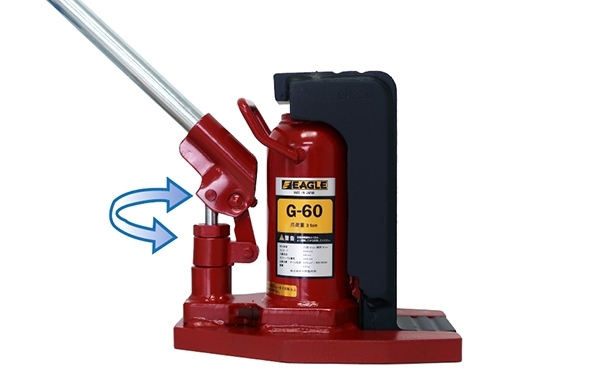 EAGLE Toe Jack can be operated from various directions since the lever socket rotates.
Operators can also smoothly perform jacking operations in a small and confined space that were previously impossible to operate.
Thick operating lever with grip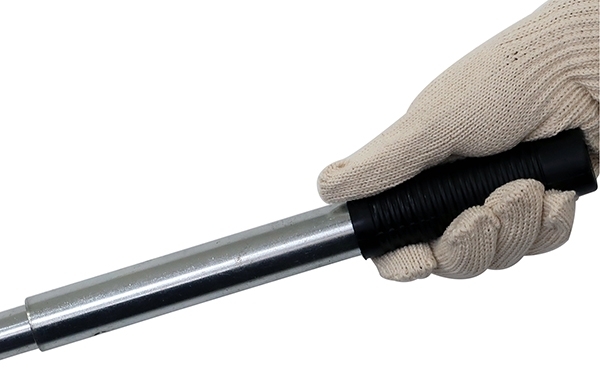 The operation lever is an important factor for smooth jack operation.
In case of EAGLE toe jack, we have adopted a "thick operating lever with a grip" that combines optimal "thickness", "length" and "rigidity" to reduce operating force.
Since the operating force is less than that of the conventional toe jack, even if a full load is applied, the lever operation can be made smoothly.
Safety valve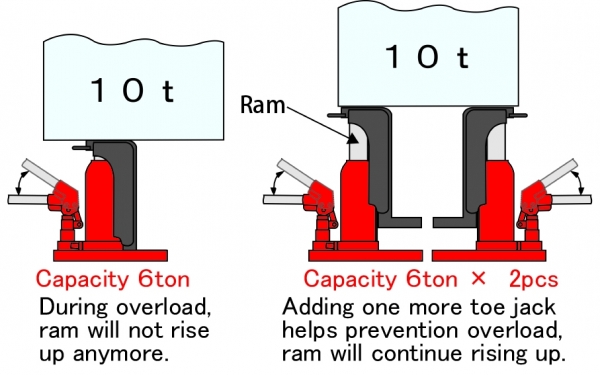 It is extremely dangerous to let the jack work beyond the allowable load.
In the worst case, the jack will break and the jacked up one will dive.
To prevent such dangerous event, a safety valve (a system that prevents the ram from extending further when the pressure exceeds the specified value) is equipped inside the standard toe jack to prevent overload.
(excluding the remote toe jack type).
(3) High Quality Material and Solid Manufacturing Technology
For its main part that requires full strength, EAGLE adopts Japan's renowned highest quality steel material. And then, its proficient manufacturing staff with high skill attains highest quality in their parts processing and welding assembly by skillful operations of robots and NC machines.
By making most use of Japan's "Mono Tsukuri (high quality product manufacturing)" concept that consists of manufacturing technology, technicians' skill and quality control system, EAGLE is providing products with highest running cost performance and reliability.